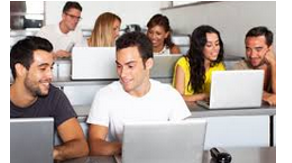 Start Your New Career in as Little at Four Months
Learn Internet, Big Data and Mobile Technologies
Become a Certified Web Apps Developer
Internet Technology School (http://JavaSchool.com) is registered with
Colorado Employment Training Programs
as one of the best in the state for training and consulting in Web and Mobile Apps, Big Data and Business Intelligence.
This is not only cool stuff to learn but is very attractive for potential employers looking for these
hard-to-find
skills.
Four to six months of focused training is a valid alternative to four to six years of college.
Instead of a degree and a sizable loan you obtain the skills to open a door to IT.
In a college, many separate subjects are perfectly disconnected. An average college graduate seems to know many things but can do very little. We developed an integral approach and effective methods of using technology in education, tuning in to individual skills and performances. These methods, shared at
http://FixingSociety.com
, make our training successful and cost-efficient.
No IT background is required.
But if you have one, your learning curve will be shorter.
How Internet Technology School (ITS) can Help You Reach Your Goals:

taking the time to explain complex matters simply

helping the industry to transition to IT of the Future

building a team and a community

Visit our presentation:
Invitation to Information Technology
Where IT is going? Why it is constantly growing? How to benefit from this knowledge?
From the author of "Fixing Education and Corporation with IT of the Future".
We are looking for more tutors and open to profit sharing and partnerships. Any referral that brings good students and business to us will come back to you as 10% of our profit for an individual and 20% for a partner company.
Email us: dean@javaschool.com | Register for 2015 | Englewood, Greenwood Village, Denver Tech Center, Colorado, US
© 1995-present by ITS, Inc, all rights reserved. US Patents:
Distributed Active Knowledge, Knowledge-Driven Architecture, Adaptive Robot Systems, Rules Collector, Collaborative Security and Decisions